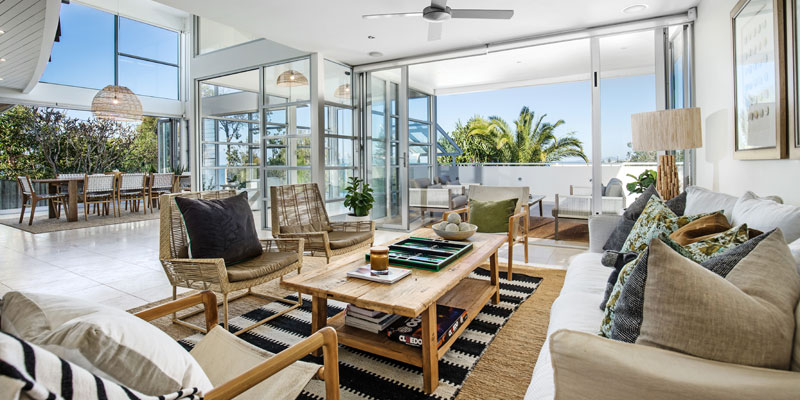 09 May

7 Tasteful Styling Tips to Help Your Holiday Rental Generate More Income

A well thought-out and tastefully designed holiday rental attracts more bookings and guests have a more enjoyable experience from the moment they enter the door. When guests experience a consistent design aesthetic throughout the property, it creates a sense that you truly care about your holiday rental, as well as the guest experience.

The aim is to give your guests the feeling as though the space has been thoughtfully designed and furnished with their needs in mind. If you take the time to curate a comfortable and tasteful design, it is something that will stay in people's minds. By creating the ultimate holiday retreat for guests, you will not only encourage guests to return over and over again but are more likely to receive fabulous reviews which are a wonderful way to attract new guests and holidaymakers to your property.

It is crucial that guests staying at your holiday property feel comfortable, and cleanliness plays a huge part in how well it is received. Having a comfortable space for guests to enjoy their holiday is incredibly important. However, demonstrating well thought-out design accompanied by a smattering of character-filled personal touches is what takes a holiday rental to the next level and elevates your guest's experience into a truly memorable one.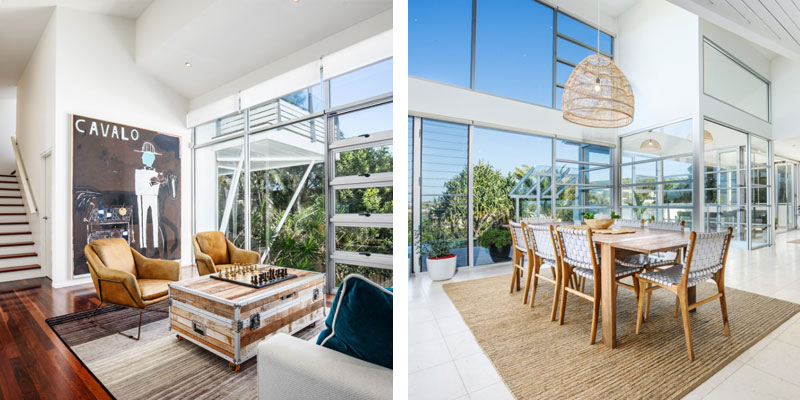 If you are interested in offering your guests the ultimate holiday retreat that conveys a warm, welcoming sense of design and attention to detail, we have listed seven tasteful styling tips that you should consider to help you on your way.
1. Use a Neutral Colour Palette as Your Foundation
Unless you are extremely confident in your interior decorating skills, we advise keeping the colour palette neutral. Choose a colour scheme that won't offend your guests and that can be easily complimented with the addition of a few character-driven accent pieces such as a bold piece of art, scatter cushions or rug. While saturated jewel tone paint colours and bold graphic print wallpaper might be the hottest design trend, they may be very confronting for more conservative guests.
Ideal colour choice for large items of furniture, walls, and cabinetry.
Opt for natural wood, softly textured linens, and natural fibre upholstery or genuine leather accents. They add interest and warmth without being overbearing.
2. Spend Your Money Where It Counts Most
You will be well served in spending a bit extra on big-ticket items such as a comfortable sofa and a good quality bed. When it comes to holiday home furnishings they should be both practical and comfortable.
Buy the best quality mattress and best set you can afford. A comfortable bed is essential as terrible night's sleep can severely impact your guest's overall experience.
Invest in a large sofa that comfortably fits into your living area. Your guest will appreciate a cosy and relaxing seating area where they can unwind and hang out.
3. Turn the Bedroom into a Sleep Sanctuary
As we've mentioned above, a good night's sleep is particularly important when on holiday. No matter how beautiful your holiday rental may be, an uncomfortable bed will almost always ruin your guest's opinion of their stay.
Purchase good quality bed linen that boasts a higher-than-average thread count.
Stick to muted colours with minimal print as it conveys a serene sense of cleanliness and calm. When in doubt choose crisp white bedding.
Invest in plush duvet inners, quality pillows and a down comforter for colder months.
Remove clutter and unnecessary items of furniture.
Black-out curtains or blinds are essential, as the amount of light that gets into the room can affect the quality of sleep.
Add interest and personality with colourful accent pillows and throws.
Mirrors, bed lamps, coat hooks and rugs can act as both a practical and design complement to the room. With some careful thought, these items can really elevate the visual appeal of the room.
4. Create a Bright and Blissful Bathroom Experience
It should go without saying; the bathroom in your holiday rental should be immaculately clean. It needs to be spotless, mould free and well-lit.
Soft and absorbent towels are must-haves and you should provide additional sets for your guests.
While it might be counter-intuitive to provide guests with light-coloured towels, they are universally preferable and are seen as more hygienic.
Include a few unscented candles, room diffuser and a lush green plant in a beautiful porcelain planter to create a spa-like atmosphere.
Although not strictly necessary, complimentary soaps and shampoo are thoughtful extras.
5. Kitchen Confidential: Creating a Cohesive Look
In addition to being immaculately clean and well-appointed, make sure that all large appliances are in perfect working order. Glassware, crockery and cutlery should be presented to your guests as complete sets.
Select dinnerware, serving bowls and stemware that echoes your home's colour scheme and conveys your design aesthetic.
Tasteful kitchen accessories such as linens and utensil holders, matched to your dinnerware can create a stunning cohesive look that guests are sure to remember.
6. Add Tasteful Personal Touches
Personal touches are what make a design memorable and can do wonders in creating a positive lasting impression of your holiday rental for your guests. They not only express your home's style but add a level of character and comfort for guests to enjoy.
Consider incorporating striking pieces of art from local artists. Celebrate local talent and industry by sourcing accent pieces that are unique to your location. Need inspiration? We've included the following link that is an excellent resource you can use to source local art. This is also a great resource for a wide range of products and services – furniture, furnishings and décor, in-room guest amenities and design and consulting services etc.
It can be as simple as showcasing the beauty of your area by displaying a striking bunch of flowers or a bowl of gorgeous fresh produce from the local market.
7. Lighting and Window Treatments
Well thought-out lighting arrangement can transform a room. The right lighting works wonders in creating a desired mood or ambience in a particular space.
High-traffic, functional areas such as kitchens, entrance ways and bathroom should be well-lit.
Lighting can also act as stand-alone design pieces, such as striking statement lights above a dining table or unique pendant lights in place of bedside lamps.
High-quality window treatments are an important practical and design feature. They serve both a practical purpose in terms of privacy and blocking out light while also adding a sense of luxury and softness.
For an extra layer of privacy, consider pairing sheer curtains with your set of block-out curtains.