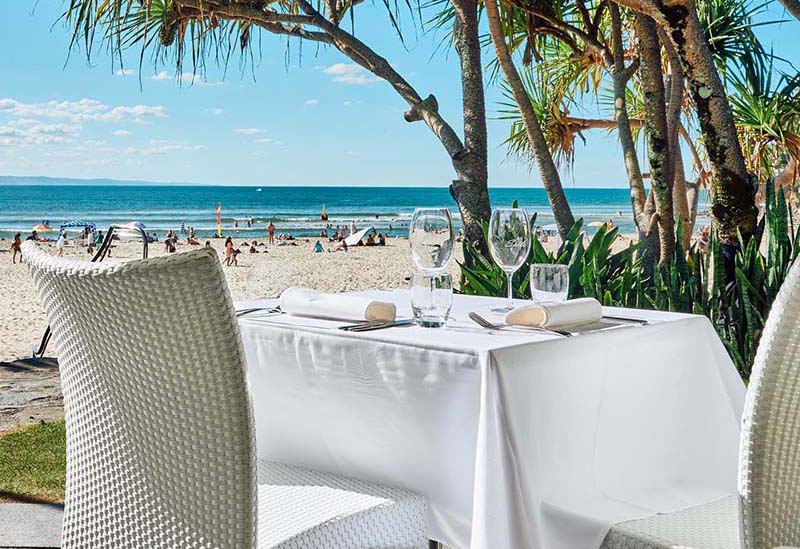 26 Aug

Noosa restaurants you want to know about

You'll be amazed by the choice of fabulous Noosa restaurants. From absolute beachfront to eclectic Hastings Street and the stunning Noosa River, there's many incredible dining options waiting to be tasted!

To help you get started on your culinary journey, we've selected the Noosa restaurants you want to know about!
Locale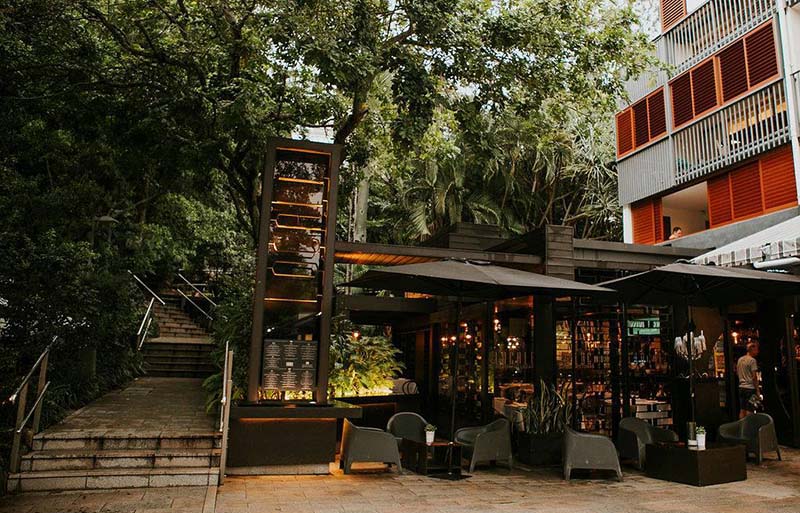 Searching for somewhere special to take your loved ones? Then Locale Noosa will definitely impress them. The interior is a sensory delight filled with candles, soft lighting and huge windows that let in the lush gardens. Located in a prestigious corner of Hastings Street, seconds away from the golden sands of Noosa Main Beach – Locale offers the 'wow factor'.
Therefore, Locale is must for everyone wanting a deluxe fine dining experience. Based on traditional Italian cuisine, you're in for an exquisite, seasonally changing menu that uses the best local produce and premium imported ingredients. Their seasonal menu features handmade pasta, traditional Italian antipasti and desserts paired with an impressive selection of wines, beers and cocktails. Get ready to be impressed by Locale, one of the finest Noosa restaurants.
Noosa Boathouse
Get the best view of the Noosa River at the Noosa Boathouse, which is perfectly positioned directly on the water. Watch the boats glide by, whilst you dine on some of the yummiest fish and chips in Noosa. There's also plenty of non-seafood options including lamb gnocchi, steak, tofu and peal couscous salad. Generously sized, you won't go hungry!
Lead by Chef, Shane Bailey, the menu embraces fresh local seafood, quality beef and locally harvested produce. Pair your meal with a glass of wine, a classic cocktail or mocktail, or choose from a fab range of spirits.
With waterfront views from every angle, the bistro and Sunset Bar are idyllic to soak up the chilled Noosa atmosphere, gorgeous natural environment and those mesmerising sunsets. Experience the most unique dining position on the Noosa River.
Bang Bang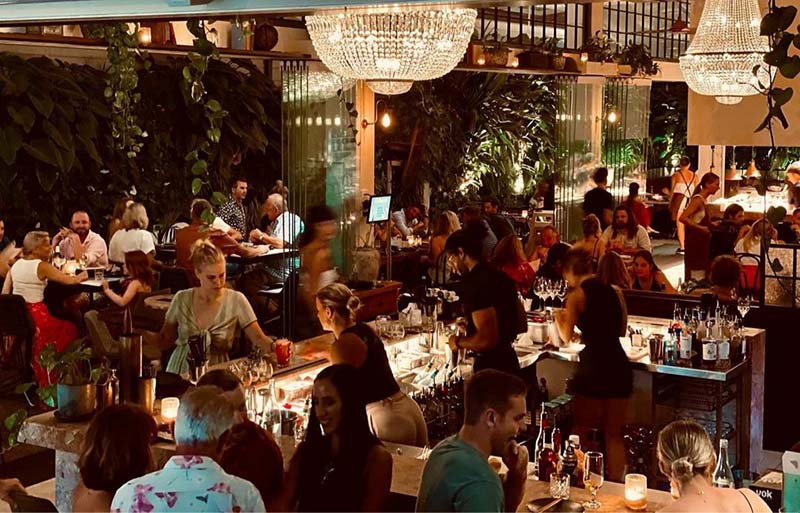 Ready for a taste sensation? No bland food here! Bang Bang Noosa is the sister restaurant of the hugely successful Byron Bay Bang Bang. The fusion Asian cuisine is crammed full of mighty flavour, amazingly presented and well-priced for its glam Hastings Street location.
This sharing-style menu means you can order several dishes, which is perfect because everything is so delicious, it's hard to choose! There's Korean fried chicken, charred scallops, pad seuw, braised beef massaman, whole fried snapper and so much more – mouth watering yet? If you know what you like and don't want to share, indulge in a meal all to yourself.
Set under a sky of exotic lighting artfully hanging from the high roof, the dining room. is softly illuminated. With seating around the open kitchen and bar, you can enjoy watching your food and drink be prepared. Surrounded by tropical greenery, Bang Bang is an oasis for the soul.
There's an extensive drinks menu with an exceptional reserve wine list, fun cocktails, beer and classic spirits. Or skip the drinks and refresh yourself with ice-cold, complimentary sparkling or still water, which will be brought to you throughout your meal. Bang Bang is one of those Noosa restaurants you need to visit!
250 Grammi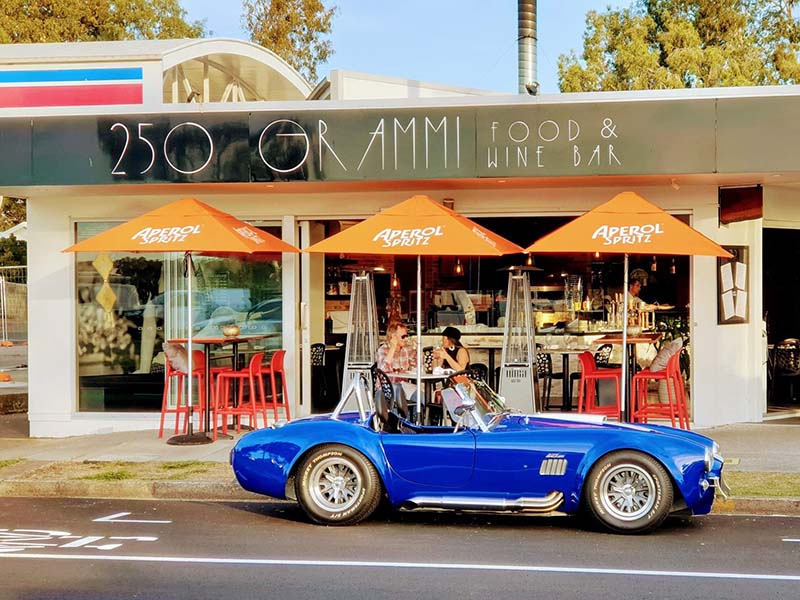 Feeling like having an upbeat meal? Then get yourself to 250 Grammi – a vibey, authentic Italian restaurant that's open until midnight – in-keeping with European style dining! Located on cosmopolitan Gympie Terrace and with Noosa River views, it's easy to drink up the ambience.
Ideal for big groups, sample many different dishes that are designed to be shared the Italian way, like a large Sunday lunch with friends and family. Get hungry for long sharing pizzas, perfectly cooked in the wood-fired oven and the sharing boards of cheeses and cured meats. With plenty of antipasti and fried nibbles, there's lots of Italian delights to try.
If you know what you want and want it all to yourself then that's fine too! With fresh pasta, risotto, fish and meat main meals, this extensive menu has it all – good luck deciding!
To compliment all of this, 250 Grammi offer a beautifully matched wine list, ranging from Italy to France and Australia to New Zealand. Start or finish your meal with a tempting cocktail or smooth spirit, the choice is endless.
Sails Noosa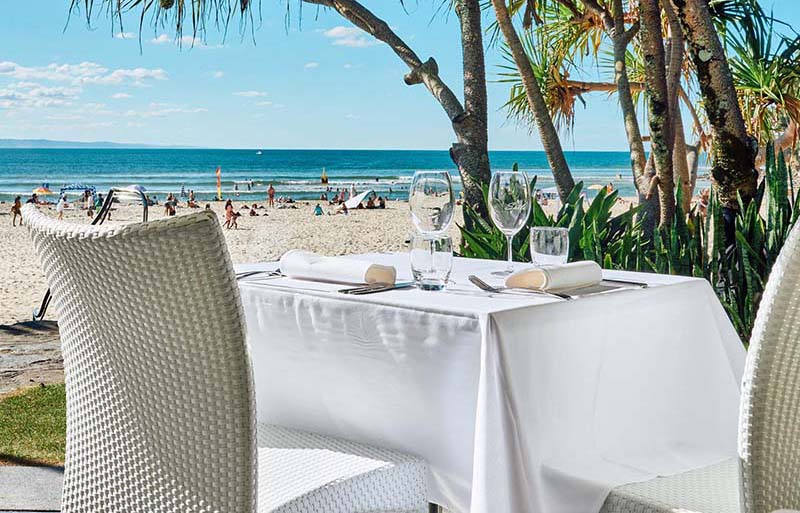 Want absolute beachfront dining? Then get an unrivalled ocean view at Sails Noosa, one of only a few restaurants boasting front row seats to Noosa Main Beach.
Head Chef, Paul Leete creates menus that focus on premium quality, fresh and seasonal produce that's used to create a fusion of modern Australian cuisine. Eat clean and enjoy delicious food sourced from growers who practice organic farming techniques and have a proven commitment to animal welfare.
Get a taste of the best produce the Sunshine Coast has to offer, along with exemplary produce from across Australia. Awaken your taste buds with a sashimi plate, arancini, sand crab lasagne, Morton Bay bug and oysters – this is coastal dining after all!
Complement your meal with their award-winning wine list, housed in their three working cellars in one of the largest wine collections in Australia with over 600 wines on offer. This is definitely a wine connoisseurs dream restaurant!
Stay in luxurious Noosa accommodation
Get to these Noosa restaurants with ease from Noosa Luxury Holiday's accommodation, located on and around Hastings Street, along the Noosa River, moments from the beach, and throughout Noosa Heads, Noosaville and the Eastern beaches.